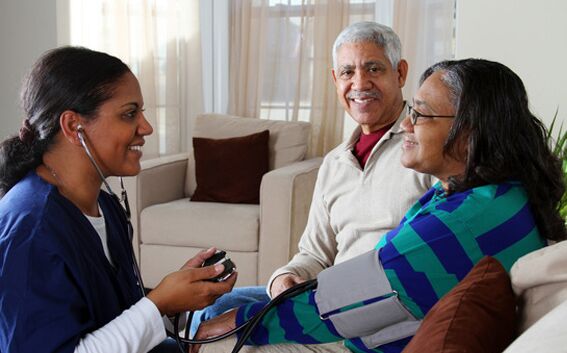 Providing Exemplary Quality in Home Health
Our care is defined by our clinical expertise and the compassion we deliver every day – one patient at a time. We are committed to continually raising the bar in home healthcare by setting new industry standards for quality care and personalized service.
There's no question that, in general, in-home care is more comfortable for patients, lowers the risk of infection, lessens the likelihood of future hospitalizations and promotes activities that improve quality of life.
We provide a broad range of health care services to help patients feel better at home, including:
Assessment & Evaluation
Health Teaching and Diet Supervision
Total Parenteral Nutrition / Eternal Feedings
Drawing Blood Samples and Blood Sugar Levels
Insulin Administration
Intravenous Therapy
Wound Care / Dressing Change
Catheter Care / Catheter Changes
Colostomy / Colostomy Care

Home Health Aides
Bathing and Dressing
Turning and Positioning
Ambulation
Feeding
Oral and Hair Care
Catheter Care
Light Housekeeping

Would you like information for Hospice, Home Health, or Provider Service?